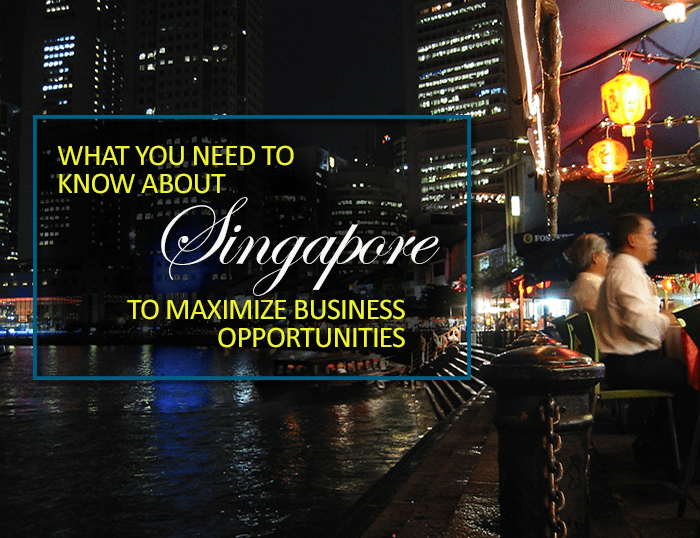 It's easy to recognize that Singapore is one of the most flourishing business environments in the world today, but foreign companies planning to set up a Singapore branch office should look into several features of the country if you want your dive into business to be deep and viable in the long run.
Learning more about Singapore would allow you to create a solid business plan, develop strategies that are aligned with business protocols, the country's culture and lifestyle, and other observations you can derive from your market research.
William Bill of Wealth Design Group was quoted in an article saying that businesses should know "which direction to travel and how fast to go. A good market research plan indicates where and who your customers are. It will also tell you when they are most likely and willing to purchase your goods or use your services."
Learning more about Singapore may also help you find opportunities that will create a positive impact on your finances and tax compliance requirements.
How and why?
Here's what you need to know before you register a branch office or set up a company in Singapore:
Economy
According to the Ministry of Trade and Industry (MTI), Singapore's economy experienced a 1.4 percent growth as of the third quarter this year compared a year ago.We discussed the impact of Singapore's economy 2016 on small and medium-sized enterprises in one of our recent blog posts.
Weiwen Ng, an economist at ANZ Asia-Pacific Economics, claimed in an article that the country has been faring better than expected and lauded the contribution of the services sector. In fact, Singapore emerged as the second most competitive economy in the world based on the World Economic Forum's (WEF) survey, exceeding other Asian countries like Japan and Hong Kong: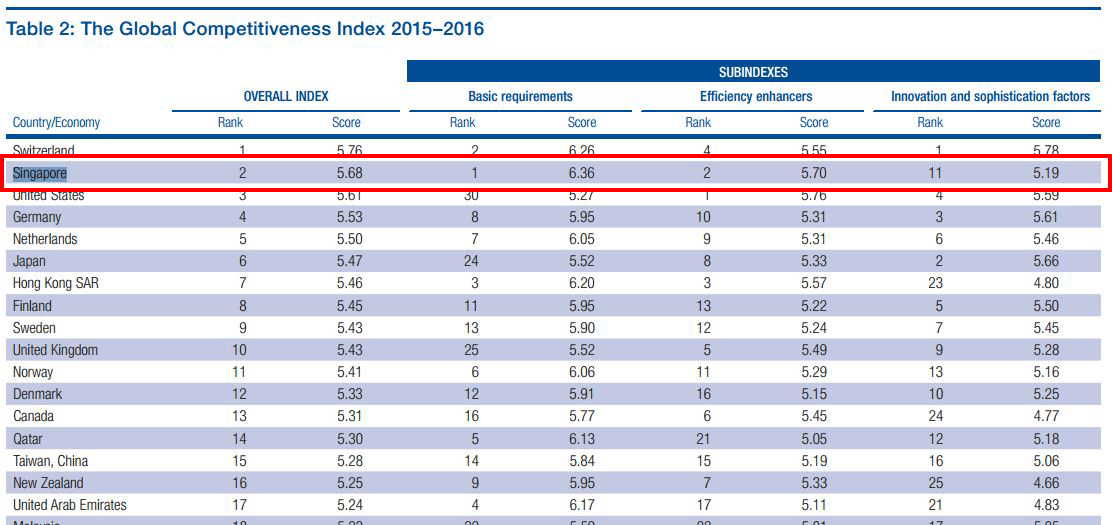 Also read: How Will Singapore's Economy in 2016 Affect Your Business?
Employment
If you want your business to succeed, having a good strategy to hire the best talents for your core business is a must.
Do you plan to hire locals in the future?
Singapore is one of the top three high-performing countries in the areas of labor market efficiency and education, according to WEF's findings.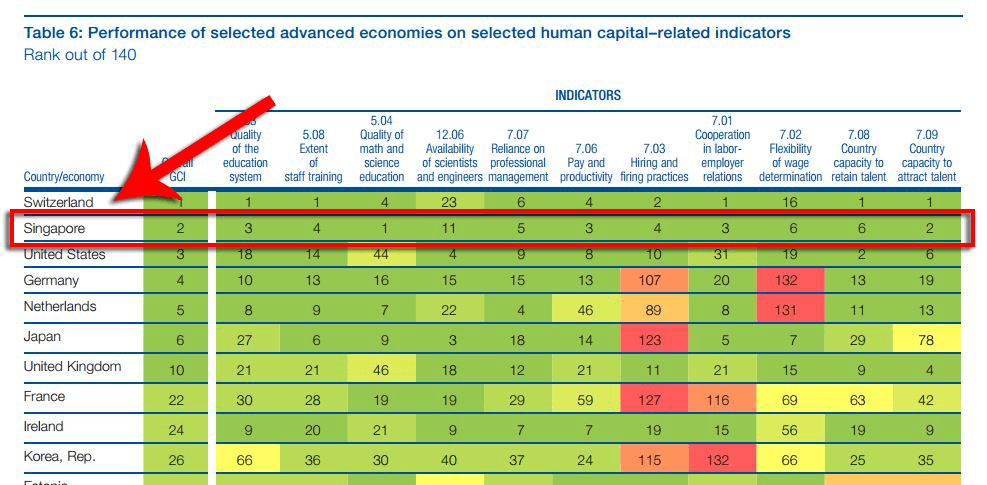 Based on the report, well-trained and productive people move in a thriving environment: "Although the relationship between unemployment and competitiveness is complex, both rely heavily on the adequacy of the education system and the efficiency of the labor market: by educating, training, and rewarding people appropriately, a country ensures that its workers have the skills to attain productive employment and that it can attract and retain talent.
Government support
Your success as an entrepreneur depends on your determination and hard work.
But let's admit it: the journey becomes less challenging when there are leaders who are willing to support and motivate you.
Singapore has proven that government support is also key to success when the country ranked as the tenth hottest startup ecosystem worldwide in Compass' report.
Tomas Laboutka of HotelQuickly was even quoted saying, "The startup ecosystem gets similar levels of attention from both the local government and ventures, attracting the third largest venture capital investments in the APAC region, after China and Japan. Singapore for many is the easy gateway to Southeast Asia."
Among the programmes of the government that support aspiring entrepreneurs, start-ups, SMEs, and business owners in general include:
SkillsFuture Programmes – help Singaporeans to learn and master skills through institution-based and structured on-the-job training, fellowships, leadership development initiatives, collaborations with strategic companies, and Sectoral Manpower Plans (SMPs) in all key sectors
SPRING Singapore – promotes Singapore products and services through internationally-recognized standards and quality assurance infrastructure
Infocomm Development Authority of Singapore (IDA)'s Smart Nation – implements new technologies to make the services for individuals and businesses more efficient
Singapore Economic Development Board – gives incentives to businesses that can enhance their operations in the country, such as International / Regional Headquarters Award (IHQ / RHQ), Land Intensification Allowance (LIA), Mergers & Acquisitions (M&A) Scheme, and Development and Expansion Incentive (DEI).
Also read: Singapore Government Grants and Schemes for Startups and SMEs in 2016
Expatriation
Are you open to actually working in Singapore?
The HSBC expat explorer survey disclosed that 59% of the surveyed expats find Singapore an ideal environment for career advancement and 53% believe that acquiring new skills at work is more likely in Singapore than at home.
Singapore ranked as the best country in the world for expats, outranking other booming business environments like New Zealand, Sweden, UAE, and Taiwan.
Infrastructure
Singapore is consistently recognized worldwide for its top-notch infrastructure. Data from WEF shows that Singapore came first in terms of quality of air transport infrastructure and second for quality of port infrastructure.
The country's Intelligent Transport System was particularly named among the best infrastructure developments in KPMG International's latest Infrastructure 100: World Markets Report 2014.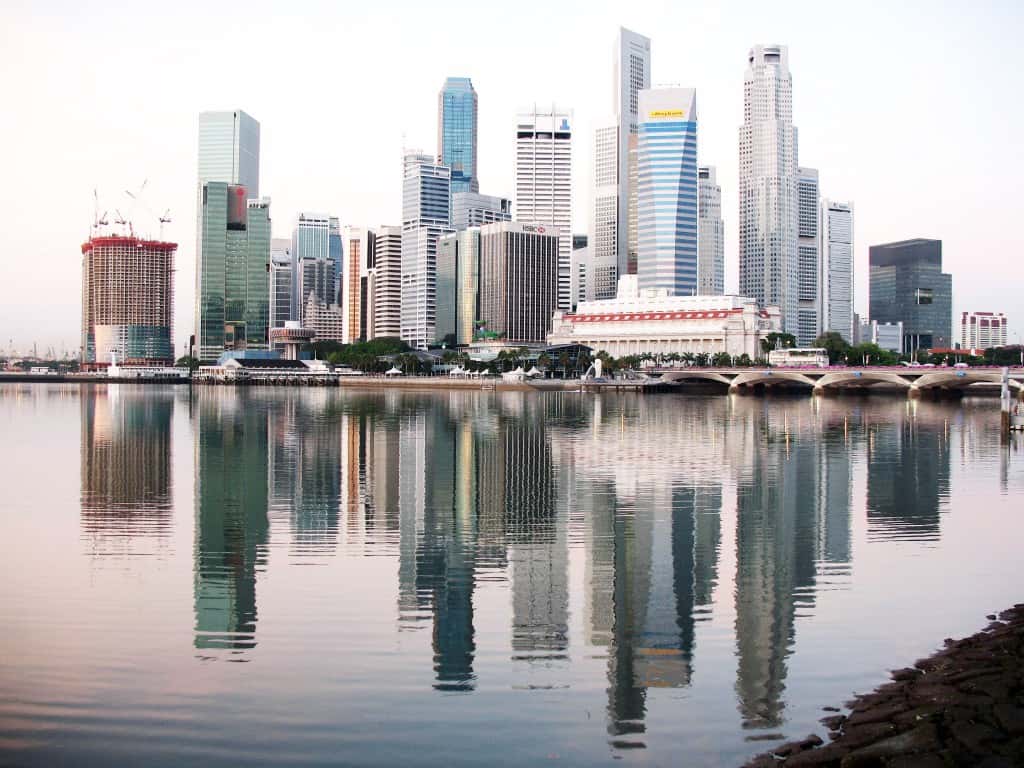 The excellence goes beyond what the eyes can see.
Singapore won four of the categories in a "smart city initiatives" 2015 contest across the Asia-Pacific region, according to research agency IDC. Singapore beat other countries in the areas of transportation, land use and environmental management, water as well as education.
The recognition was attributed to Singapore's "'intelligent transport systems' initiative; the National Environmental Agency's NEA "smart mapping for dengue prevention and control"; the country's "smart water sensors for water management"; and an education programme called FutureSchools@Singapore."
Regulation
If you think branch office registration or Singapore company incorporation would eat your time up, this might surprise you.
According to World Bank Group's Doing Business 2015, Singapore is the frontrunner in Asia in terms of the ease of starting a business.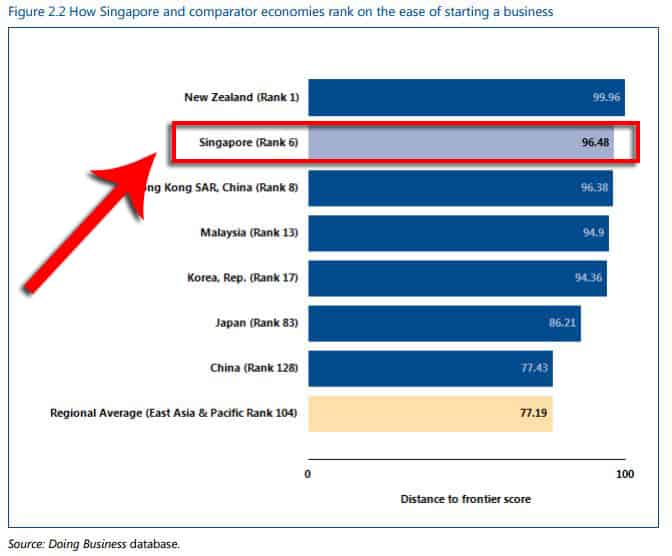 Singapore company formation is not as laborious and costly as it sounds too.
If your company wants to register a branch office in the country, you can consult with and engage specialists to guide you and all you have to do is to send them the requirements, including:
a certified copy of its certificate of incorporation in the foreign country;
a certified copy of the instrument defining its constitution;
a list of the directors with their respective particulars;
Memorandum of Appointment or Power of Attorney of two (2) or more local agents who are authorised to accept notices served on the branch on its behalf. The local agents must be natural persons resident in (not necessarily citizens of) Singapore;
a statutory declaration in prescribed form made by the agent confirming particulars of the branch; and
a notice of location of its Registered Office in Singapore.
original documents of the foreign corporation must be certified translated copies in English to be filed with the ROC.
The Future
The young are quite optimistic.
They could be your future employees, partners, or next entrepreneurs that will keep Singapore's business climate alive.
Based on the findings of the MasterCard Youth Confidence Index, Singapore youth reached an overall score of 68.8 when asked about their optimism about their future in the country. The survey's results were based on the outlook of the respondents to their employment prospects, the economy, income, and present versus expected quality of life in five years.
The future sees continuous innovation as well.
In a report, the Global Innovation Index 2015 (GII 2015), an annual survey published by Cornell University, INSEAD and the World Intellectual Property Organisation (WIPO), revealed that Singapore was named as the seventh most innovative country in the world as well as the most innovative in South East Asia and Oceania.
Ready to register your Singapore branch office?
Each year, we help foreign entrepreneurs set up their branch office in Singapore. Let our team assist you in your entrepreneurial journey.